I think this time of year many
people are very aware of baskets. I've been thinking about Easter baskets and split white oak baskets these last few weeks. Dad and I used to make baskets years ago. One year, we did the craft time at Vacation Bible School at our church and we taught the older kids how to make baskets. The kids really liked it. I had a poster that I made as an introduction with references to baskets in the Bible--you know, like Moses, the loaves and fishes and the spies that were lowered over the wall in a basket. That had to have been a big basket!!

Would you like to see some of
the baskets that we made?
The two on the ends are egg baskets. The first time I made
one of those-well, it wasn't perfect. The one on the right with
the green and red -well, that was my second egg basket.
I was pleased with that basket since it was more difficult
to make and I had mastered the technique.
Here are two different types of baskets. The one on the left has a
square bottom and is square at the top. The one on the left is a
rectangle on the bottom and an oval at the top. The basket can also
be made so that it is square on the bottom and then round on the top.
Assistant to the photographer, Pumpkin.
Here is my daughter's Easter basket.
She uses the same basket every year.
I bet you'd use the same basket every year if
your Granpa made your basket and signed it, too!
This is my favorite basket that Dad made. It's
large and great for transporting casseroles, cobblers
and one of my party favorites, cheese straws!
It is super strong and has a very sturdy handle.
Dad made several of these big baskets for Mom, me
and as gifts to some of our friends. I saw one
of his baskets still being used yesterday by a friend.
In the spring of 2006, I lost my big basket. I couldn't
even remember where I had used it last. I looked
for it everywhere. I asked friends about it, too. I was
sure, since I couldn't find it in our house, that I must
have left it somewhere. It really bothered me that I
couldn't find my basket because Daddy had passed
away in November the previous year.
I knew I wouldn't be able to replace it.

Then, one day, I was looking back through the pictures
I had taken at Easter and this is what I saw...
down for me. And there it was-- Daddy's basket in the attic
and filled with plastic Easter eggs. My sweet husband
had put it in the attic with all the other Easter decorations!
I was a super happy girl when I found my basket!
Here's my sweet Daddy with some of his baskets.

Do you have special Easter baskets or
other baskets that you enjoy in your home?
I'd love to hear your basket story!

Joining the Party with:
FUNKY JUNK INTERIORS'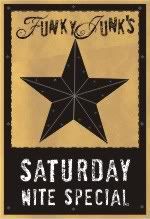 Have a Daily Cup from Mrs. Olson
Share Your Cup Thursday